A Creative Life
Found myself daydreaming this morning when I was supposed to be working, drinking in the quiet with my coffee.
Instead of writing, I watched two crows dutifully go about their work as they gathered nesting materials in the rain.
I've been reading a lot about creativity lately. I've been struck by how broad the definition has become for me as I've grown older.
Sure, I studied painting and literature in university, easily plopped in the 'creative' category. But I wonder, aren't those crows just as creative as the old masters I learned about in school?
Isn't it the same instinct / knowing / source at work in their nest-making as well as in my paintbox? Or my garden? Or the vital community which surrounds me, yourself included?
I wonder, in a place and time that is so focused on destruction, when we seem to believe that our very nature is destructive - what might happen if we embraced our roles as creatives in the world?
I'm not talking about picking up a paintbrush.
I'm talking about viewing the work we already all do, the work of daily life, in the light of truth; all of our daily labours are acts of creativity.
Whether that's raising a child, planting a garden, learning a new skill, cooking a meal, building a community . . . how might our view of ourselves, indeed our view of the world at large, shift, if we acknowledged the creative nature of those acts? If we leaned into it?
If we saw them as votes cast towards our better nature? Our possibility?
Your life is already artful - waiting, just waiting, for you to make it art. - Toni Morrison
To make living itself an art, that is the goal. - Henry Miller.
As always.
Best,
S
FRESH AT THE FARM THIS WEEK

​

To order, simply reply to this email. Cut off for orders via email is 10 am Thursday morning. Please call if you have a last minute order to check availability.

Farm pickup hours are 1 to 5 Friday and Saturday only. Prepayment is not required - you can pay at pickup. We accept cash, credit, debit and apple / samsung pay.

Please note our hours are firm - please respect our privacy outside of farm gate hours as the farm is our home. Thanks!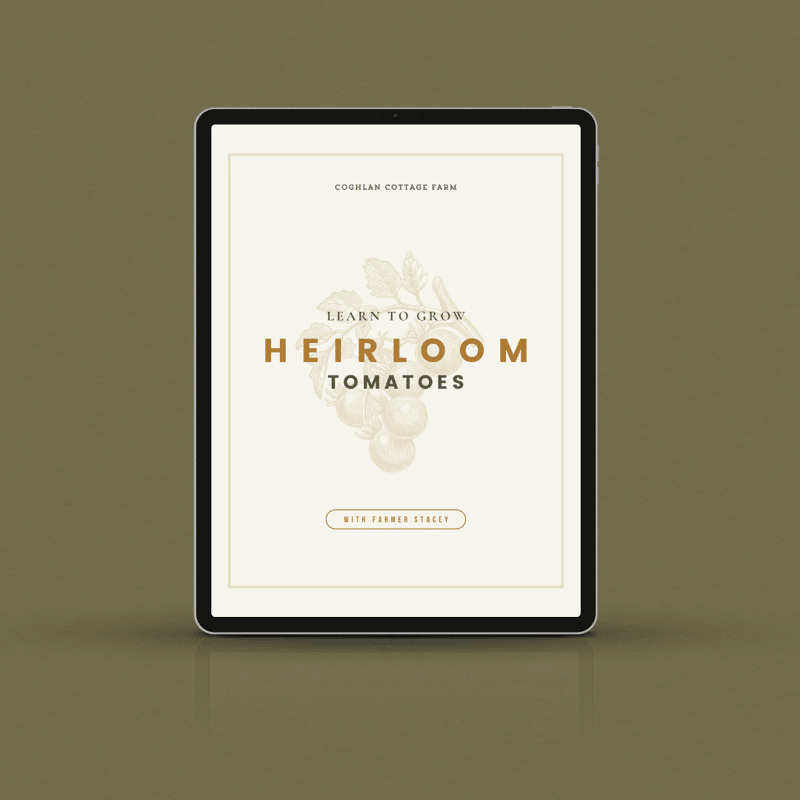 After taking a hiatus during the pandemic, our popular body bar soap is back in rotation.
Lemon Cream, Vintage Rose, Refresh + True North are all ready to go - more scents on the way.
$8 ea or 3 for $20 Introductory prices
SEEDLINGS $5.50 ea or 4 for $20 : 4 inch pots
Assorted heirloom tomatoes of all sizes and colours, peppers both hot and sweet and a selection of cosmos + poppies - more flowers coming in a couple weeks.
(As always, raised organically.)
LARD + BEESWAX CANDLES
Apple Pie, Pumpkin Pie, Lavender + Sea Salt, Cedar + Sandalwood, Citrus, French Vanilla, Vanilla Bourbon, Bourbon + Sandalwood and more!
$12 ea or 2 for $20
SOLID DISH SOAP
Unscented or Lemon Eucalyptus **LAVENDER** Back in stock
$8 ea or 3 for $20
EGGS $7 per doz
Sow Bacon - $12 lb SOLD OUT

Ground Pork $11.00 lb IS BACK

Taster Pack - approximately 10 LBS of assorted cuts, sausages and bacon $135 Available THIS weekend
Family Pack - approximately 30 LBS of assorted cuts, sausages and bacon $375 Available next weekend

ROAST $11.50 lb (aprox. 4 pounds each)

Boneless Loin Roast SOLD OUT $14 lb

Chops $14.75 lb (2 chops to a pack) back in stock

Bones for ramen broth $11 per bag (aprox 4 lbs)

Pork Belly $10.50 lb SOLD OUT

Side Ribs (not baby-back) $10.50 lb

SMOKED HOCKS FOR SOUP $8 lb

Trotters $8 per pack (best ramen ever)

Bratwurst Sausage $12.50 lb (comes in aprox 2 lb packs of 6 large links)

Breakfast Sausage $12.50 lb

Mild Italian Sausage $12.50 lb (comes in aprox 2 lb packs of 6 large links) SOLD OUT

Chorizo Sausages $12.50 lb (comes in aprox 2 lb packs of 6 large links) SOLD OUT

Bacon $16.99 lb (aprox 1 lb pack) limit 2 per family

Back Bacon $16.99 lb (aprox 1 lb pack) limit 2 per family
To order just hit REPLY to this email.